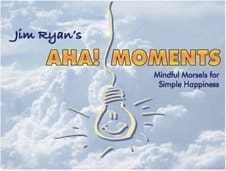 $9.99
This is the second collection of AHA Moments bundled together into a book.
Every Wednesday, thousands of folks have opened their e-mail boxes to find one of my "Aha Moments". The ongoing enthusiastic feedback inspires me to keep sharing my 'little sparks' of insight so others may be in touch with their genius. In my own quest for Simple Happiness, I find that regular doses of inspiration are critical. That's what this book hopes to be. Have it handy with your morning coffee, on your desk at work or in your purse or briefcase. It can even be read and discussed at your family dinner. However you decide to use this book, it is my hope that the second edition of these "Aha Moments" be just that – moments of mindfulness, moments of conscious living, or moments in which you see joy and fulfillment unfolding in your life. Jim Ryan
This book helped me so much to look at life in a better way!!! I read a chapter every day!
Annie
A fabulous easy-to-read book that will inspire you to be a better person. I've learned a great deal from this book. I definitely recommend it to anyone who wants to live a "happy" life.
Nikki M.
Very insightful and inspirational book. Jim is also an excellent motivational speaker and had led thoughtful and prayerful retreats.
Ed