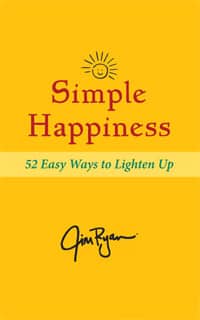 $14.95
Jim has just released his latest edition of his inspirational book, Simple Happiness, 52 Easy Ways to Lighten Up.  Tens of thousands of readers have been encouraged to live their best lives now.  Inspired by the overwhelmingly positive feedback, Jim now has the book available on Kindle, Amazon, Barnes and Noble and Smashwords.
Simple Happiness was written from the heart with the intention to give you comfort and hope.  Comfort that no matter where you find yourself, it is just where you are supposed to be. It offers hope that no matter where that place is, it can always get better, much better.  It represents comfort and hope that true happiness and joy are available to everyone – including you!
People who read the book are often so moved by it that they pass it on to someone they care about. I invite you to open that door of opportunity I like to call "Simple Happiness" and as you do so, may you find what your heart desires.
This book helped me so much to look at life in a better way!!! I read a chapter every day!
Annie
A fabulous easy-to-read book that will inspire you to be a better person. I've learned a great deal from this book. I definitely recommend it to anyone who wants to live a "happy" life.
Nikki M.
Very insightful and inspirational book. Jim is also an excellent motivational speaker and had led thoughtful and prayerful retreats.
Ed