Prepare to be Motivated – Prepare to be Educated – Prepare to be Enlightened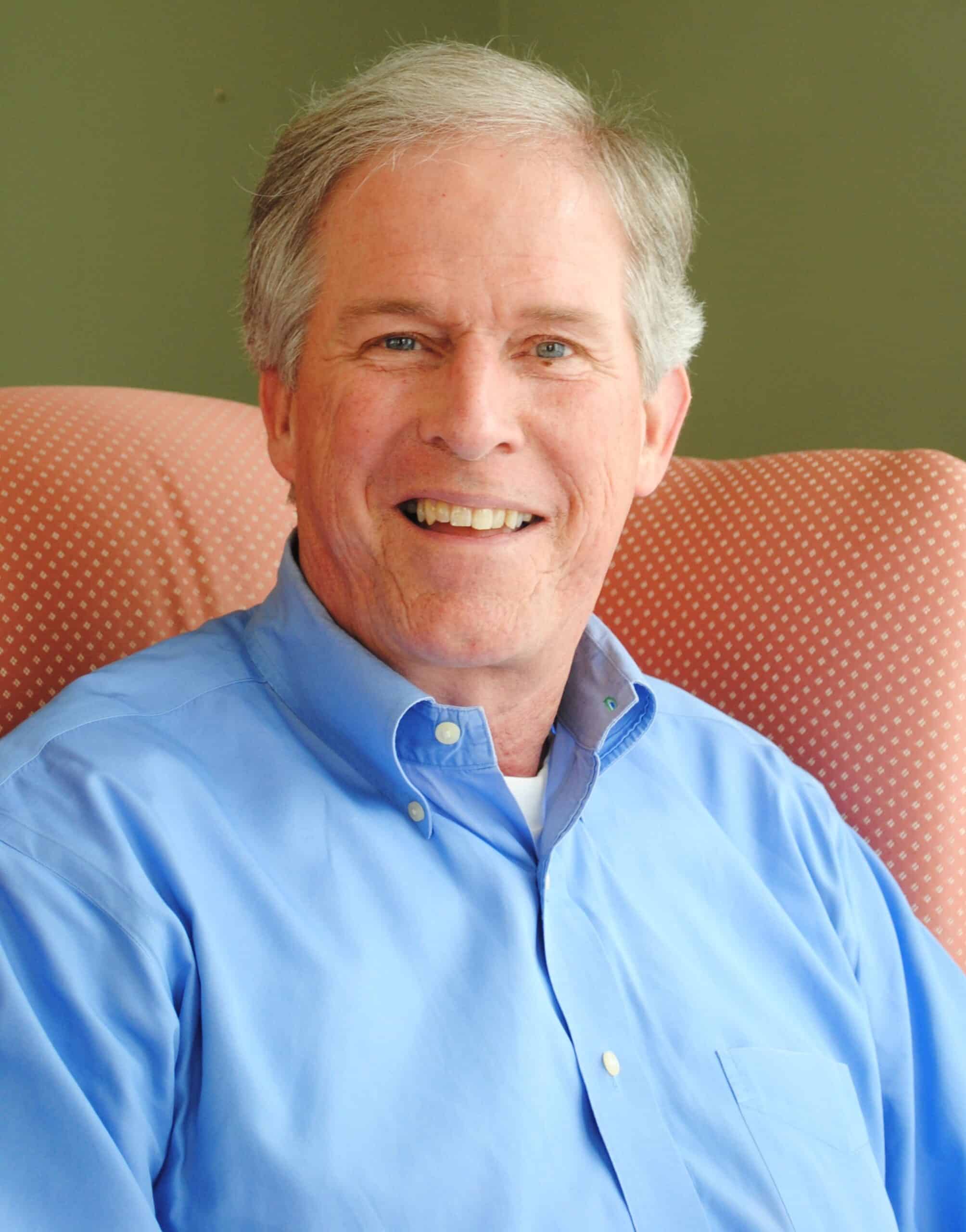 Jim's ability to establish rapport immediately as well as his enthusiasm and genuine passion for the topic make for an engaging experience for every audience. His own sense of self and his genuine authenticity serve to open up the minds and hearts of his listeners. What further separates Jim from the crowd is his ability to relate to his audiences through his considerable musical talent. Jim is an accomplished guitarist and singer. His musical interludes serve to solidify the concepts presented.
His experience in the educational, business and the non-profit worlds have him firmly grounded in the real world. Jim is married and the father of three grown children.
Back in the year 2000 Jim decided to give back to his community by volunteering in his local prison system, teaching a course in personal development. The first thing every Monday morning, Jim brought his positive, yet realistic message to a group of 20-30 men and a group of 15-20 women at the DWI Alternative Facility in Suffolk County, NY. He rarely ever missed a Monday since the year 2000. His experience there spurred him to bring his message to the public. He started by giving talks in local libraries. People came, the word spread. His reputation propelled him to venues all over America. 
Simple Happiness, 52 Easy Ways to Lighten Up, Jim's inspirational book has met with rave reviews and has served as a blueprint for living a life of joy and fulfillment. It has been read and reread by tens of thousands both in the USA and around the world.
Since moving to Tennessee, Jim has continued his prison work, teaching his personal development course at the Oak Cottage for Women, a halfway house for women recently released from prison.
Every Wednesday morning thousands are happy to open their email boxes to be inspired by one of Jim's "Aha Moments". These uplifting messages serve as reminders of what we can be doing to bring more joy into our lives and the lives of those around us.
Jim has a BA in French from Iona University and an MS in Counseling from Queens College. He has appeared on numerous radio and TV shows around the country.
Keynote Address
"Managing Thought the Key to Success in Business and in Life" and "Happy People Make Successful Companies" serve as a great kickoff to your conference or meeting. Attendees are energized and ready to participate.
Customized Workshops
Jim Ryan is a motivational speaker whose programs are customized to meet the needs of each sponsor and audience. As a professional speaker, Jim will spend as much time as needed to understand the issues and challenges that each individual audience faces. 
Employee/Client Appreciation Events
Say thank you to your most important people: your employees and your clients. Create an atmosphere of loyalty and camaraderie.  
Ah Ha Moments
Every Wednesday morning I send out to my email list an uplifting thought, something positive to help you get through the week.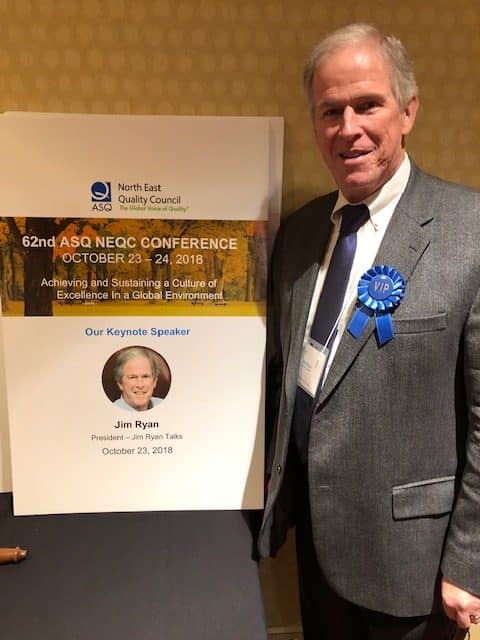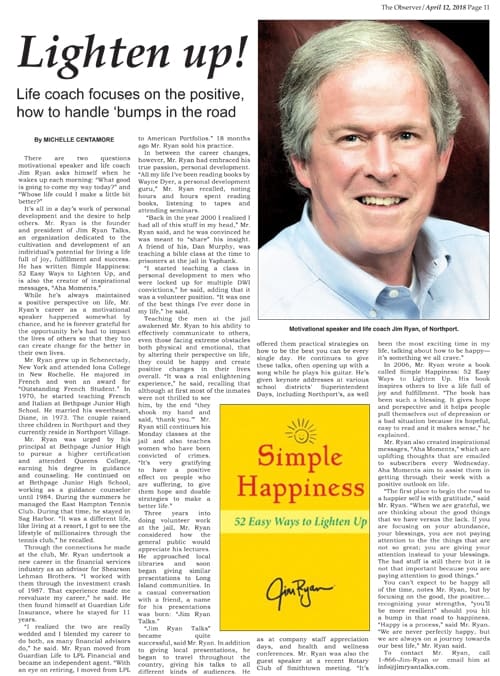 Jim Ryan's talks on spreading happiness have been making waves in the news recently. In his speeches and interviews, Ryan emphasizes the importance of cultivating a positive mindset and finding joy in everyday life. Read a few news stories about Jim Ryan here!
"Yes. 
Some mornings your words speak directly to me. They push me to move forward to believe in myself. This Wednesday your post was especially appropriate. I am at the precipice of reaching a long worked for goal. When I let myself dare to believe it can happen, I yank myself back- not allowing myself to embrace that thought. 
This Wednesday, I read your words – this is happening to me now. I will allow myself to believe. I have always felt my gifts were a divine intervention; that God has guided me through and allowed me to experience the joy of the journey. 
So, the response to you is yes. Please put me on your Friday list. Your words of encouragement are always welcome.  - Annie
"On behalf of the entire Coach Realtors' organization, I thank you for your timely and inspiring presentation at our annual awards meeting. Your message was "just what the doctor ordered." You did a fine job conforming your material to our industry and the needs of the audience. Obviously you had your antennae up during our pre-event conversations! your delivery was clear, engaging and entertaining." - Georgianna Findlay Finn, Broker/Owner, Coach Realtors
"Jim knows how to capture his audience. He creates excitement. The entire program was priceless" - Mario F.
"I met Jim at a local library 8 years ago and have followed his workshops ever since. I gave 10 autographed copies of his book to friends throughout the year." - Pati S.
"I came with high expectations and they were surpassed."  - Rosemary W.
"Mr. Ryan presents an eloquent and energetic program. He enjoys what he does and it shows. Jim speaks many truths that the world really needs to hear. If people listened to these truths all the present discontent that is swallowing the world will greatly diminish. PEACE on EARTH in not impossible". - Eleanor C.
"Jim's talk was very inspiring. It was an uplifting experience that opened my eyes to new ideas." - Liz B.
"Jim is a wonderful communicator" - Lottie W.
"I discovered your book years ago. I'm so happy to finally hear you speak". - Terry M.
"Great job! 2 hours went by very fast!" - Diane S.
"It's reassuring, even comforting, that even Jim is working on his happiness every day. It makes me feel that I don't have to be perfect to be happy. When I  make mistakes or get upset I can learn from it." - Kelly M.
"You are the BEST! Your program was wonderful." - Dalal F.
"Thank you for reminding us that happiness can be a simple thoughtful process. It doesn't have to be complicated." - Doreen R.
"The training was absolutely wonderful. It reminded me that I am responsible for what I do and I shall be more appreciative of my life." - Eileen C.
"Very motivational talk. I loved it. You are an awesome presenter." - Fran
"Excellent program. Super motivational." - Kelly C.
"This was a delightful talk. I intend to use a lot of the ideas you spoke about". - Liz S.
"I loved your book. I will share it with my family. Thanks." - Chuck W.
Jim Ryan is the founder and president of Jim Ryan Talks, an organization dedicated to the cultivation and development of each individual's potential for living a life full of joy, fulfillment and success. Jim has the unique ability to take profound, life-changing concepts and turn them into easily understood solutions. Jim is a visionary, a leading edge thinker, whose words gently penetrate to the core of his listeners. His message empowers and inspires his audiences to live their best lives: a message that encourages each attendee to achieve his personal best, at home, at work and in personal relationships. If you are looking for a happier, more fulfilled life, you have landed in the right spot. Send us a message and let's get started!